CandyCornCrew.com is an online interactive extension to Cheers! with Chelsea, featuring the candy corn obsessed spiders of Chelsea's imagination.
We like to think of this place as a virtual clubhouse, stocked full of hidden treats and secrets stashed throughout our pages.
Fair warning: not all clues are what they may seem and some are more obvious than others.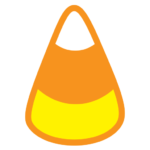 ---
– Meet the Candy Corn Crew –
A.K.A. The Candy Corn Thieves of Madison Manor
Candy
Candy is the greatest hoarder of the Candy Corn Thieves, rarely seen without a generous helping of the holiday's trademark confectionary in his arms. He can sometimes be seen trailing after his siblings if he spies an opportunity to grow his stash. Candy corn may be his passion, but that doesn't mean it is his only interest. He is not one to participate in other activities, but he is always excited to discover new treats and sweets that arrive with the Halloween season.
Bonbon
Like her candy corn loving/thieving siblings, Bonbon is a connoisseur of candy corn. Unlike the rest of her clutch, she is often seen enjoying other flavors outside of traditional honey. Bonbon is very clumsy and has been seen dropping her candy corn stashes and getting herself trapped in unusual spaces. Despite her accident-prone nature, Bonbon loves to get and give a good scare and finds particular enjoyment in frightening her siblings.
Caramelo
Caramelo loves candy corn. She loves to decorate. More than anything, she loves Halloween, mainly in thanks to candy corn being so abundant. The one thing Caramelo does not love is being scared. It is noted that she is often on the receiving end of Bonbon's love for scaring others. Caramelo enjoys doing Halloween tasks with her siblings. Her favorite of all these is decorating Madison, ever full of care and love for their long-time home.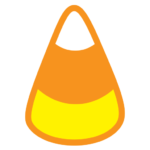 ---
– Meet the Creator –
Chelsea Celaya
The Candy Corn Crew is the creative results of Chelsea's desire to mesh Halloween with her everyday blogging. A random sketch of these little spiders in 2016 snatching legsful of candy corn from a snoozing feline was only the beginning to the shenanigans Chelsea's imagination would put these three spiderlings through.
Chelsea loves creating and nothing gets her more excited then brainstorming original unusual projects that might be more avant-garde than she anticipated. When not coming up with crazy hairbrained ideas, Chelsea spends the majority of her time as a full time mom with her two littles, Monster & Boo. Her current familiar, Scatcat, served as inspiration for the sleeping feline that was featured in the first sketch of the Candy Corn thieves and loves to snooze at her feet as she creates each new adventure for the Candy Corn Crew.
Read more from Chelsea directly on her blog, CheersWithChelsea.com or follow her on your preferred social media outlet listed below.